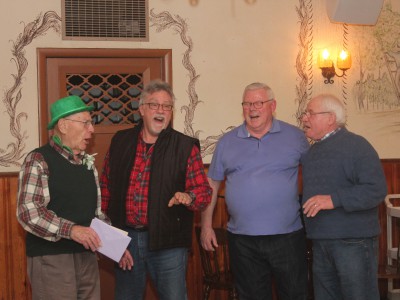 Kitchener, On, March 17, 2015:  Barbershoppers from the past and present joined together on Tuesday evening (St. Patrick's Day) in celebrating the 90th birthday of one of their own.   Lorne Brubacher says he began lying about his age in order to get in the army in the waning years of WWII.  But he allowed at the party that we was "coming out of the closet" and finally acknowledging his 90 years. 
Lorne is a 53-year member of the Twin City Harmonizers chorus.  He continues in his leadership roles as Tenor Section leader, member of the Board of Directors and Chorus Manager.  Lorne,  (in the green hat) is pictured below singing with his pals Ron Coulter, Peter Klassen and Howie Wideman.  The chorus is considering changing March 17 to "St. Lorne's Day" in recognition of its esteemed member! Lorne is the first active member to reach 90 years of age as a VERY active member. 
The Twin City Harmonizers is the local chapter of the Barbershop Harmony Society and has been entertaining audiences around Ontario since 1946.   The chapter meets every Tuesday throughout the year at the SCHWABEN club is at 1668 King St East, Kitchener (beside Red Lobster). Guests are always welcome.
Our spring show, "Thank You For The Music" will feature The Preston Scout House Brass Ensemble. Performances will be on Friday May 1st at 7:30 PM and Saturday May 2nd at 2:00 PM. Details at http://www.twincityharmonizers.com