We are proud to have two active quartets as well as an octet. Check out each group below to learn more about them and how to book them for a performance.
CLASSIC CHORDSMEN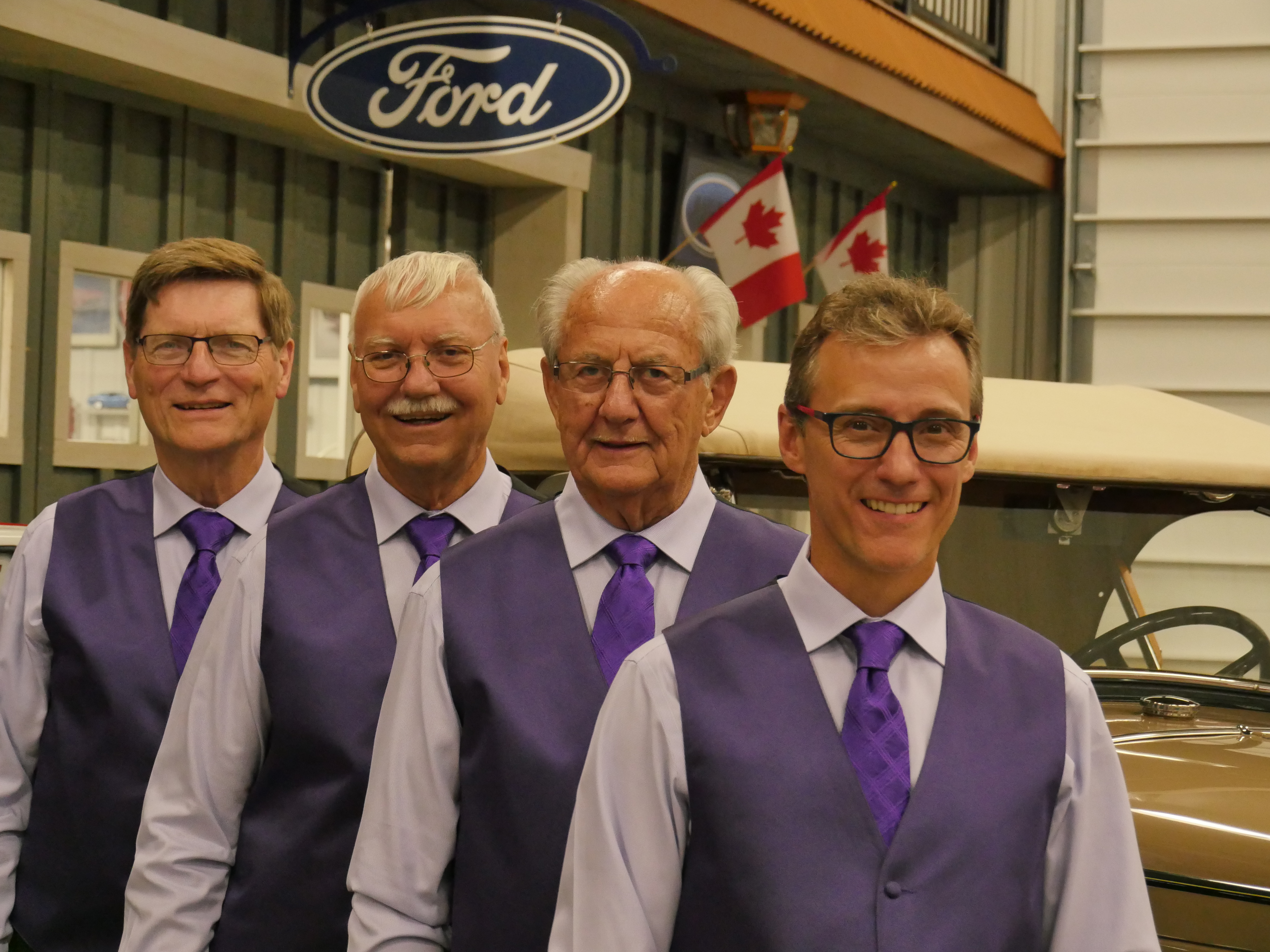 Left to right: Dennis Dueck, Art Groff, Ray Brenneman, Rich Hubick
The Classic Chordsmen quartet enjoys entertaining audiences by singing a variety of music, from show songs to inspirational songs, along with a few novelty numbers.   The a cappella, four-part, harmonies are enthusiastically received by audiences of all ages, at private parties, annual general meetings, in hospitals, retirement and care homes, and church services. They perform at the annual shows of the Twin City Harmonizers and at Christmas shows in the tri-city area.   Singing Valentines are popular hits every year.  The quartet supports the "Ontario Harmonize for Speech Fund", a charity that provides funds for speech-related programs at schools, hospitals and treatment centers throughout Ontario.
To book the Classic Chordsmen for a performance, email [email protected] or call Art at (519) 884-1348
CSQ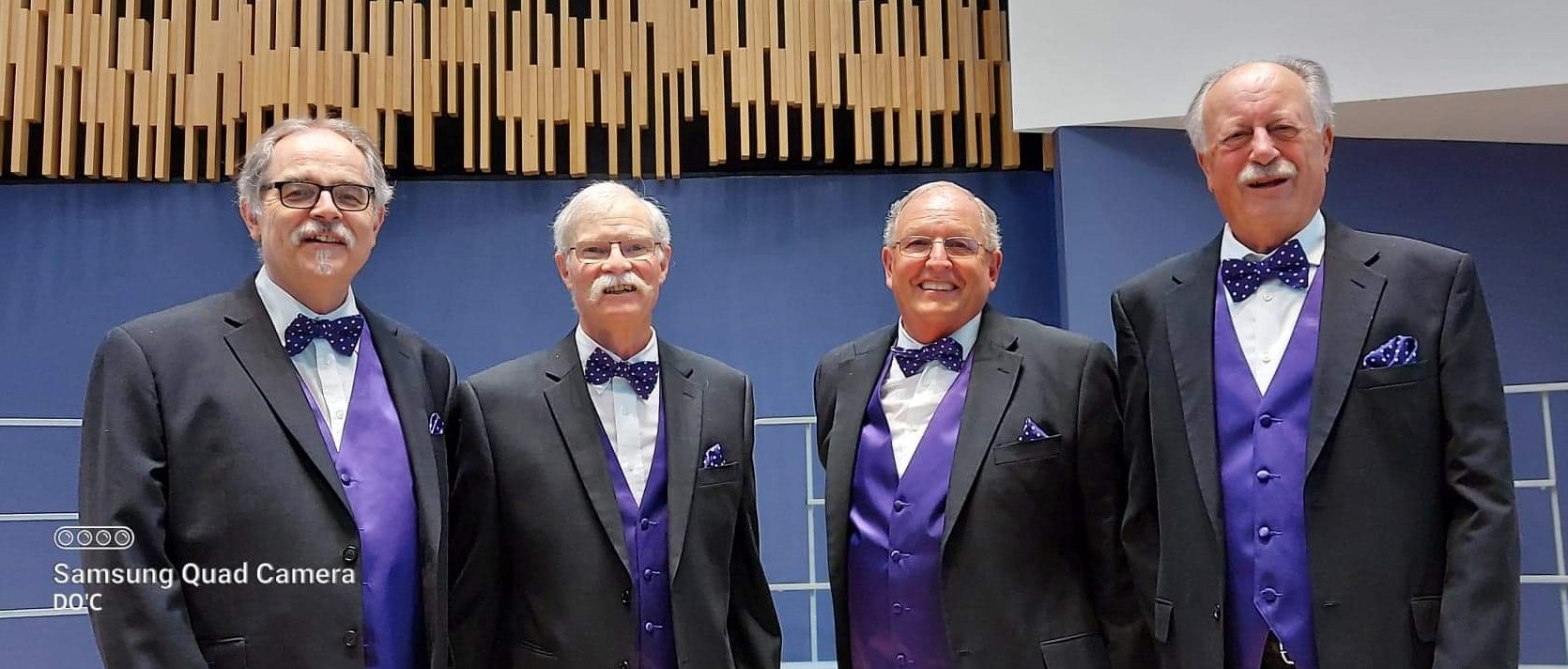 Left to right: Richard Heuss, David Ryde, Bev Bowman, Terry Hallman
CSQ started its life for the Twin City Harmonizers Christmas show back in 2015 or 16.  That is where the quick name came from – CSQ – 'Christmas Show Quartet'.  The name has stuck till now, but the quartet personnel has changed.  The human scourge of cancer took our original baritone a number of years back, but here's our current make-up.
Bev Bowman sings the bass part and he is the most recent of us to barbershopping. He lives in Elmira, and before that, Listowel.  He's a Home Hardware graduate(retiree) and has many talents from previous experience and training.
Richard Heuss sings tenor and has been singing in many different groups over the years, secular and religious.  He lives in KW and is the recent, proud grampa of twins. Richard is the subtle comedian of the quartet.
Terry Hallman sings the baritone part, also hails from KW and is a retired teacher from various KW area schools and a retired marching band performer as well.  Terry is our musician and tries to keep the quartet to the right notes, much to our appreciation.
Dave Ryde sings the lead part, some would say the easy part, since it is usually the melody line. Dave lives in St Marys and tends to be the quietest personality of the group in general, but thoroughly enjoys the gig!
The quartet members can name probably seven, if not more, barbershop choruses as well as other choirs and groups that they have been associated with.  While the pandemic put some dampers on performances over the past couple of years, the quartet has sung over the years in area old folks homes and homes in general, multiple chorus shows, impromptu singouts, but the favourite for most if not all of us is the 'generally' annual singing Valentines singouts.  
It is our pleasure to be singing for you.
To book CSQ for a performance, call or email Dave  or (226) 661-0059 or [email protected].
One More Time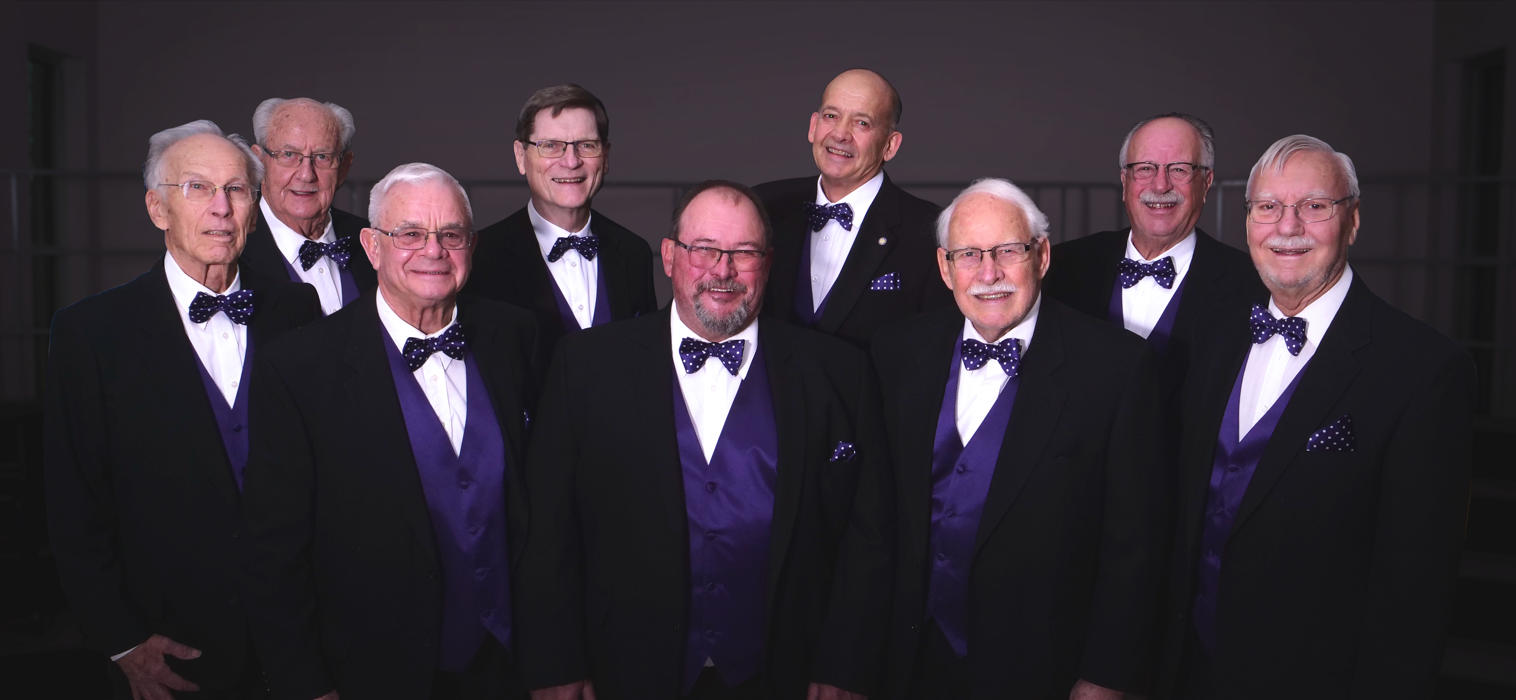 Left to right: Bill Orr, Ray Brenneman, Larry Martin, Dennis Dueck, Dave Litt, Paul Roth, Bob Norman, Terry Hallman and Art Groff (absent social members: Rod Colquhoun and Bob Kenzie) Thanks to Adrian Konstant for providing the photo.
"One More Time" is a male octet that sings a variety of music; including show tunes, popular and inspirational songs a cappella in 4-part harmony.  It is made up of singers from the Kitchener-Waterloo "Twin City Harmonizers", male chorus.  The group was originally organized to fill various requests for singing engagements that the Chorus was unable to fill.  "One More Time" will entertain your group or special event with its special style of music.
"One More Time" supports the "Ontario Harmonize for Speech Fund".  This charitable organization provides funds for hospitals, schools, clinics and treatment centres throughout Ontario for programs that assist people of all ages with speech impediments acquired from birth or from illness or injury..
To contact "One More Time" email [email protected]