We are proud to have two active quartets as well as an octet. Check out each group below to learn more about them and how to book them for a performance.
CLASSIC CHORDSMEN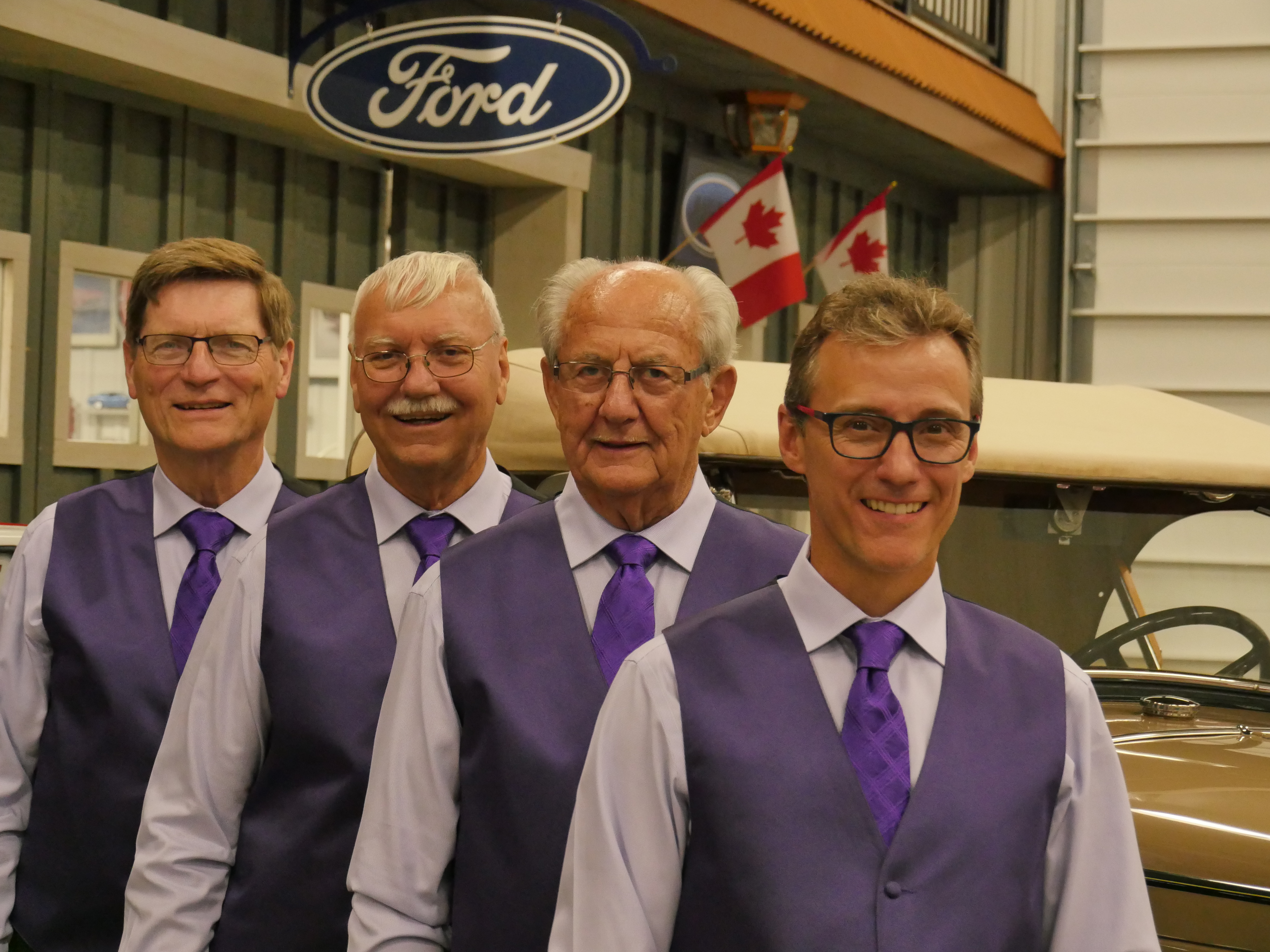 Left to right: Dennis Dueck, Art Groff, Ray Brenneman, Rich Hubick
The Classic Chordsmen quartet enjoys entertaining audiences by singing a variety of music, from show songs to inspirational songs, along with a few novelty numbers.   The a cappella, four-part, harmonies are enthusiastically received by audiences of all ages, at private parties, annual general meetings, in hospitals, retirement and care homes, and church services. They perform at the annual shows of the Twin City Harmonizers and at Christmas shows in the tri-city area.   Singing Valentines are popular hits every year.  The quartet supports the "Ontario Harmonize for Speech Fund", a charity that provides funds for speech-related programs at schools, hospitals and treatment centers throughout Ontario.
To book the Classic Chordsmen for a performance, email [email protected] or call Art at (519) 884-1348
CSQ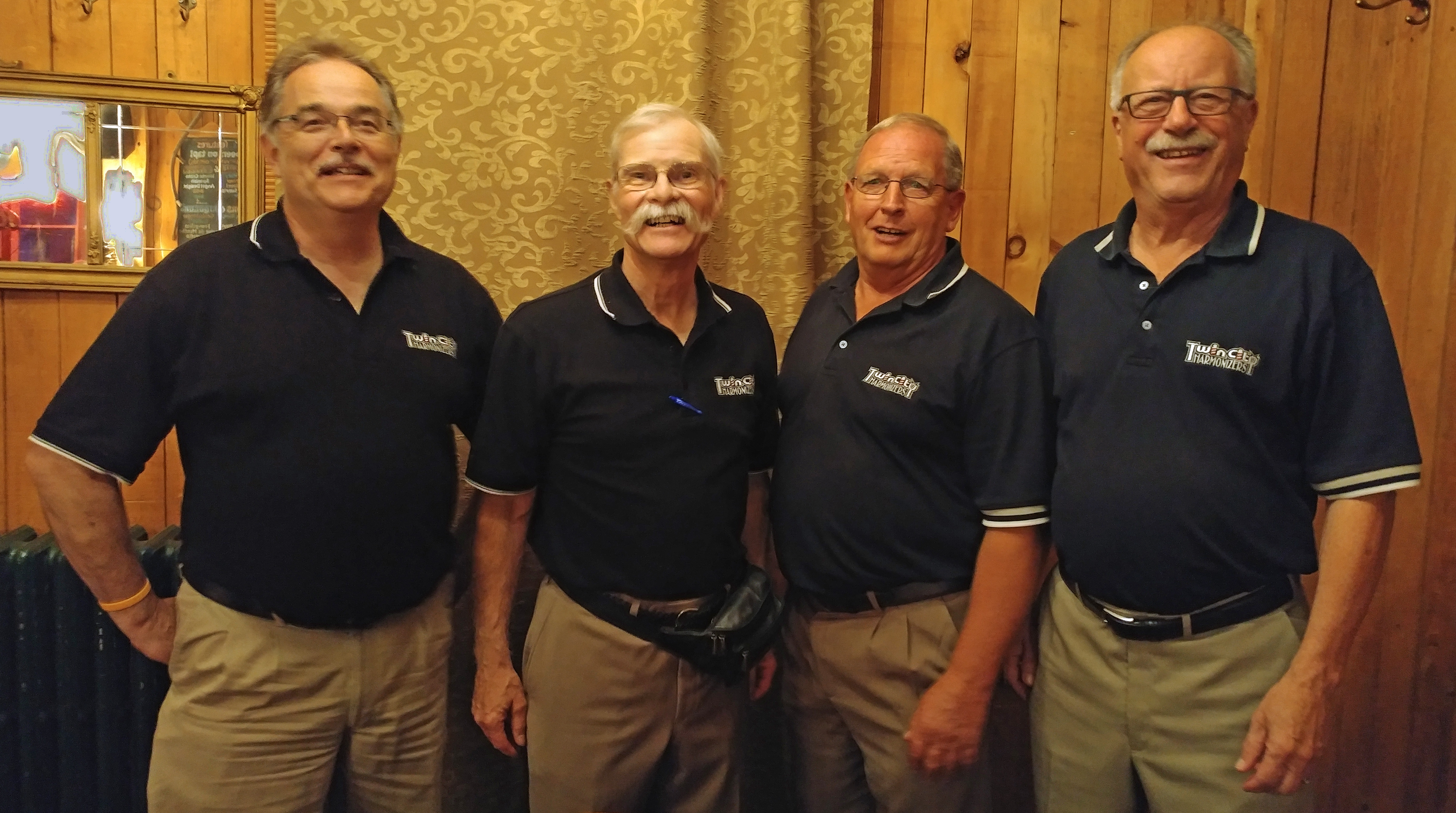 Left to right: Richard Heuss, David Ryde, Bev Bowman, Terry Hallman
For the Twin City Harmonizers Christmas show in 2015, the chorus needed several quartets to do multiple parts of a Christmas carol medley number. We were asked individually to see if we would do one of the pieces of the medley and we did come up with a quartet.  At the time Cal Cressman was singing the baritone part.  We stayed together after Christmas and enjoyed singing together.  Cal put up a heroic fight against cancer but passed away in 2016. Terry (from Kitchener) stepped in to sing baritone and we continue with Bev (from Elmira) singing bass, Richard (from Kitchener) singing tenor and Dave (from St Marys) singing lead. The name CSQ (Christmas Show Quartet!!) was a quick and easy name that has stuck.  We're enjoying our time together and the harmony we can make…most of the time.
To book CSQ for a performance, call or email Dave  or (226) 661-0059 or [email protected].
One More Time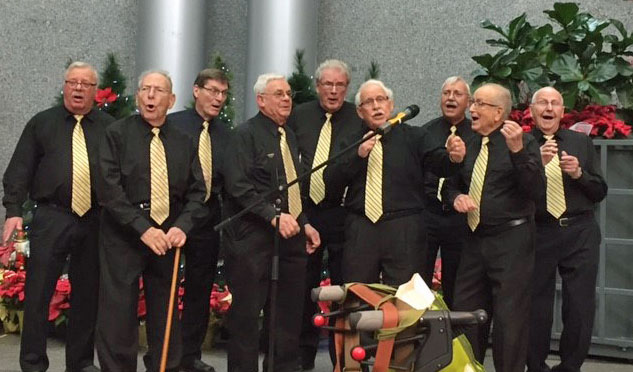 Left to right: Ralph Dekker, Lorne Brubacher, Dennis Dueck, Larry Martin, Rod Colquhoun, Bob Norman, Art Groff, Gord Willard and Doug Kunkel (absent John Duggan, Bob Kenzie, Bill Orr)
"One More Time" is a senior male octet that sings a variety of music; including show tunes, popular and inspirational songs a cappella in 4-part harmony.  It is made up of singers from the Kitchener-Waterloo "Twin City Harmonizers", male chorus.  The group was originally organized to fill various requests for singing engagements that the Chorus was unable to fill.  "One More Time" will entertain your group or special event with its special style of music.
"One More Time" supports the "Ontario Harmonize for Speech Fund".  This charitable organization provides funds for hospitals, schools, clinics and treatment centres throughout Ontario for programs that assist people of all ages with speech impediments acquired from birth or from illness or injury..
To contact "One More Time" email [email protected]